Low Country Boil/Frogmore Stew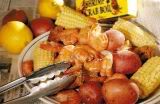 Mr. Just Keep Talkin' and I went to a 40th birthday party for two of our friends last Saturday. It was a Low Country Boil party (also known as Frogmore Stew in NC). The dish comes from the "low country" region of SC, which is the coast of SC from Georgetown down to Hilton Head. Here's the recipe:
INGREDIENTS
6 quarts water
3/4 cup Old Bay Seasoning TM
2 pounds new red potatoes
2 pounds hot smoked sausage links, cut into 2 inch pieces
12 ears corn - husked, cleaned and quartered
4 pounds large fresh shrimp, unpeeled
DIRECTIONS
Bring water and Old Bay Seasoning to boil in a large stockpot.
Add potatoes and cook for 15 minutes. Add sausage and cook for 5 minutes more. Add corn and cook for another 5 minutes. Stir in the shrimp and cook until shrimp are pink, about 5 minutes. Drain immediately and serve. (At our party, the chef sprinkled cayenne pepper on the corn after it finished cooking.)
Note: to do it "right", you put down newspaper or aluminum foil on a long table and dump out the contents and eat with your hands! Really! But we ate it on plates with utensils.